Infrastructure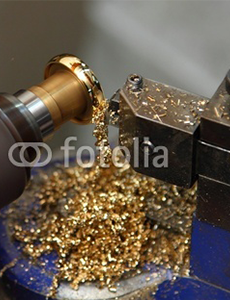 Commenced in 1988, Bhagyoday Industries is a specialized manufacturer, exporter and supplier of a wide range of Brass Precision Turned Components. We possess ISO 9001 certification to maintain the international standards for quality control. With a fine synthesis of technical experts and upgraded technology, we proffer customized manufacturing services to cater to the varied needs of our customers across the world.
Framework:
Our core competency includes state of the art manufacturing techniques, quality assurance system and R & D expertise to bridge up the company's goals and customer's need.
With advanced facilities and amenities for the customers and staff, we have spacious work space with staff lounge, refreshment area, conference room and many more comfortable provisions.
We have an in-house Foundry as a traditional approach to forging and Extrusion Press as a modern approach to easy forging with measuring and characterizing each and every material melds used in brass components.
The manufacturing unit has an unfurled area of 22,000 Sq. feet at GIDC- III, Dared, Jamnagar.
The manufacturing mechanism is well computerized with more than 7 CNC machines handled by specialized CNC programmers. It has its applications in threading, molding, punching holes and grinding surfaces of different shapes to get exact dimensions for brass precision turned components.
The list of plant & machinery is as per list:
Area
| | |
| --- | --- |
| Office | 2200 Sq.feet |
| Factory | 10000 Sq.Feet |
| Packing & Checking Room | 3500 Sq.Feet |
| Foundry | 5000 Sq.feet |
Staff
| | |
| --- | --- |
| Office | 8 |
| Factory | 25 |
| Packing & Checking Room | 15 |
| Foundry | 10 |
Machinery List
| | |
| --- | --- |
| 50 mm Turning Hand | 1 |
| 40 mm Turning Automat | 5 |
| 40 mm Turning Hand | 2 |
| 28 mm Turning Automat | 2 |
| 23 mm Turning Hand | 3 |
| 20 mm Turning Automat | 3 |
| 20 mm Turning Hand | 8 |
| Second Op. Automat | 8 |
| Milling | 5 |
| 25 mm Threading | 2 |
| 20 mm Threading | 2 |
| 13 mm Threading | 2 |
| Cutting | 2 |
| Slotting | 2 |
| Drill | 7 |
| Drawer | 2 |
| Grinder | 3 |
| Power Press | 2 |
| Polishing | 3 |
| Air Testing | 1 |
Technical Staff Details
| | |
| --- | --- |
| Engineer (Production) | 1 |
| Engineer (QA & Design) | 1 |
| QA Inspector | 1 |
| Production Supervisor | 02 |
Measuring Instruments
| | |
| --- | --- |
| Digital Vernier | 8 |
| Dial Vernier | 8 |
| Micro Meter | 3 |
| Thickness Dial Gauges | 1 |
| Depth Dial Gauges | 1 |
| Hardness Tester | 1 |
| Ring Gauges Go +No Go | 45 |
| Plug Gauges Go+ No Go | 32 |
| Filler Gauges | 1 |
| Thread Depth Gauges | 1 |
| Ceramic Disc Cycle Testing Machine | 1 |
| Weight Scall | 8 |